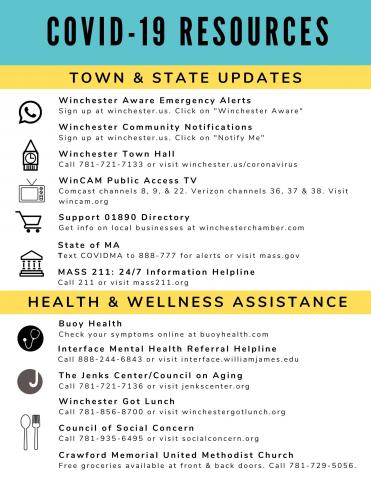 We in Winchester—along with the whole world—are working to cope with the COVID-19 pandemic. (This CDC video helps explain the need for such drastic measures.) The town has established a website as a center for information about the disease and our response to it, at winchester.us/coronavirus. The site includes
authoritative information about closures and postponements;
guidance on gatherings of young people during school closures;
updates from School Superintendent Judith Evans, Town Manager Lisa Wong, and other town departments;
helpful links from the state and Federal governments and elsewhere.
The town site is the best place to get accurate information about policies and rules as well as to check out stories you might have heard elsewhere. Accurate information is our most important tool in fighting the virus, and misinformation could actually do harm.
Support Town Businesses
The Winchester Chamber of Commerce has:
Information Sources, especially for nonprofits
Not connected with or endorsed by the Town Common.
---
A strong community is particularly important during this time of crisis, and the Town Common hopes to connect our many civic organizations to help them find the best way to contribute. Please feel free to contact us with your comments and suggestions.