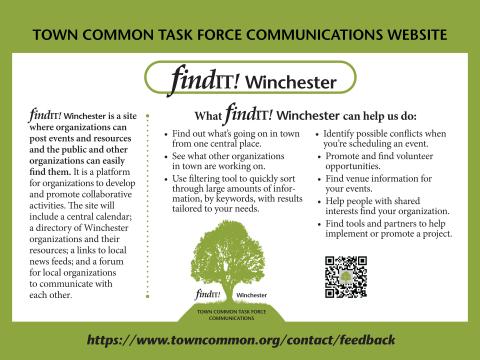 findIT! Winchester is a site where organizations can post events and resources and the public and other organizations can easily find them. It is a platform for organizations to develop and promote collaborative activities. The site will include a central calendar; a directory of Winchester organizations and their resources; a links to local news feeds; and a forum for local organizations to communicate with each other.
What findIT! Winchester can help us do
Find out what's going on in town from one central place.
See what other organizations in town are working on.
Use filtering tool to quickly sort through large amounts of information, by keywords, with results tailored to your needs.
Identify possible conflicts when you're scheduling an event.
Promote and find volunteer opportunities.
Find venue information for your events.
Help people with shared interests find your organization.
Find tools and partners to help implement or promote a project.